Registration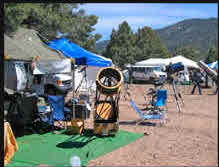 This year's dates are May 25th – May 29th
Pre-registration is available before May 7.
After May 7 you may register on-site at premium prices.
You may register using a printed registration form or online with PayPal.
If your question is not answered below, contact registrar@rtmcastronomyexpo.org
Advance registration is now closed!
Don't worry, you can register at the gate.
See you at Camp Oakes!
All meals will be on a short order basis, pay as you go '*CASH ONLY*.
There will no longer be meal plans. Breakfast will be offered from 7:00 a.m. 10:00 a.m., lunch and dinner from 12:00 p.m. – 6:30 p.m.
The snack bar near the field will be closed, but there will be a snack cart roaming around with candy, ice cream, and drinks throughout the day. The dining hall will be kept mainly as an auditorium all day and night. Take your meal to the picnic tables out back or anywhere around the camp in the clamshell meal box you'll receive holding your order.
General Admission
General admission for adults is $42 and includes entry to the conference grounds for five days (Thursday through Monday) and camping for four nights (Thursday through Sunday nights). Meals and dormitory lodging are not included. Admission is free for children 17 and under.
Single Day Admission
People coming for a single day (or any part thereof) may pay for a Single Day Admission, which is $25 for adults. Single Day Admission does not include camping, meals, or dorm lodging. Day Users arriving after 9 AM Saturday will be directed to special parking areas. Admission is free for children 17 and under.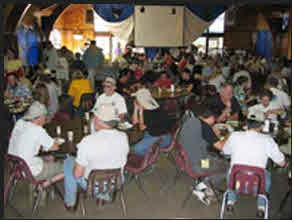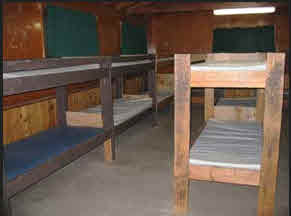 Meals
Meals may be purchased individually. Meal plans are no longer available.
Dormitory Lodging
Dormitory space is available for $16 for adults and free for children 17 and under, for four nights (Thursday through Sunday nights). This does not include admission or meals, which must be purchased separately. One bathroom/shower facility is provided for each dorm. Please bring sleeping bags and pillows; no bedding is provided. No assignments to specific dorms are made; each bunk is available on a first-come, first-served basis to people who have purchased a meal/lodging plan.
Off -Site Lodging
Lodging is also available off-site in the city of Big Bear Lake. Click on the following links for more information.
http://www.bigbearlake.net/hml/
http://www.bigbearinfo.com/lodging2.html
Recreational Vehicles/Camp Sites
There are no picnic tables, fire pits, or marked spaces in Camp Oakes. RV's may not park on the telescope a field or in a way that will impede traffic or damage the environment at Camp Oakes. RV and trailer owners need to be especially careful of interior lights. Please park so that doors open away from observers, block windows to prevent light trespass, and mask interior lights with red cellophane as necessary. Generators may run only from 11:00 a.m. until 8:00 p.m. No RV's are allowed to connect to the camp electrical system except at the Indian Guide Village!
Quiet Times/Active Locations
Not everybody sleeps at the same time. Many attendees will be observing from dusk until the wee hours of the morning. Please be courteous to your neighbors at all hours by minimizing noise. If you play music, play it quietly. On the other hand, please realize that your sleep may be disturbed by observers talking, using equipment, and in other ways as they stay up late. Locate your campsite accordingly.
Cleanup
When you leave, please make sure your area is trash free. Please leave Camp Oakes better than you found it.
Dusty Conditions
Outdoor carpeting under your scope and a tarp or other cover for the daytime are highly recommended to protect equipment from dust.
Refunds
Refunds for pre-registrations can be obtained by notifying the RTMC in writing by May 14, or June 1 for other fees. PayPal Service Fees are not refundable. Refunds will not be given for weather related issues.